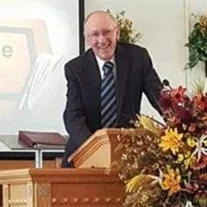 Oscar Lamar "Pete" Strickland went home to be with the Lord on Monday, June 13, 2022 at the age of 84. He was a minister of the Gospel for 56 years. Throughout those years, he touched the lives of many people. He pastored numerous churches and served as camp manager of Florida Baptist Youth Encampment in Groveland for eight of those years. He enjoyed fishing, bee keeping, his small herd of cattle and all of his family.
Pete was born on January 19, 1938 in Center Hill, Florida to John Henry and Dora Mae Strickland. His birth took place in the same home where his father had been born. He was the second of 10 children
He met his wife, Wyona Story Strickland at a revival meeting in Center Hill. They were married in June of 1957 and then blessed with two children. They celebrated their 65th anniversary on June 4, 2022.
Pete is survived by his wife, Wyona of Groveland, Florida, daughter Laquita Beaty (Kerry) of Plant City, Florida, son Danny Strickland (Joella) of Groveland, Florida, sister Linda Crawford (Johnny) of Center Hill, Florida, brothers John H. Strickland, Jr. and Jack Strickland (Janice) of Groveland, Florida, eight grandchildren, seven great grandchildren and numerous nieces and nephews. He was preceded in death by his parents, sisters Marguerite Rogers, Melba Odom, Doris Story, and Alice Duncan, brothers Marvin Strickland and Jerry Strickland.