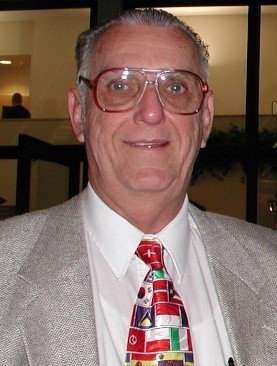 Harold Richard Williams, age 84 of Polk City, FL passed away on Tuesday, July 6, 2021. He was born in Auburndale, FL on July 19, 1936 and graduated from Auburndale High School in 1954. He was married to Anne Mauldin Williams on November 24, 2001. Harold attended University of Tampa in 1954-1955 on a scholarship in Music/Band and then served in the United States Navy from 1955-1959. While stationed in Norman, OK and Memphis, TN, he attended colleges there. He also attended Rollins College in Winter Park, FL. He worked at Martin-Marietta in Orlando, FL while attending Florida Baptist College in Lakeland, FL, where he received a BA. In IN he earned an MA at Grace Theological Seminary and received an honorary Doctor of Divinity degree in 1979 at Florida Baptist College. He pastored Pleasant Grove Baptist Church in Oxford, FL and Westside Baptist Church in Auburndale during a period of six years before becoming Academic Dean of Florida Baptist Institute, now known as Emmaus Baptist College, teaching Missions and Bible for sixteen years.
At the age of 15 Harold began working for Kersey Funeral Home and assisted Mr. Walter Kersey with his ambulance service. He lived in a little room at the top of the building, working on-call around the clock while trying to keep up with his schoolwork. After a few months he began falling asleep in class and not being able to keep up with the hectic pace, he had to give up his job. However, during his time at Westside Baptist Church he conducted many funerals and also filled in for Mr. Kersey when there was no one to officiate at other funerals. He had a long-standing personal relationship with Kersey Funeral Home.
Harold and Bro. Leon Jasper co-founded Macedonian Missionary Service in 1973, a non-profit missionary organization serving missionaries overseas, specializing in sending building, medical, project and teaching teams all over the world. MMS continued to expand to include mechanics, youth trips, tech and other ministries as well. He conducted over 300 Faith Promise Mission Conferences across the US and other countries during approximately 45 years. Harold's main focus has been preaching the gospel over Trans World Radio, a network of super-power radio stations that cover 90% of the world. The program has aired in English in over a hundred countries and is now translated into Mandarin Chinese, Russian, Burmese and Mongolian. More recently Cuba is now hearing God's Word preached in Spanish by Dr. Hugo Malozzi.
He and Anne enjoyed living on Lake Agnes in Polk City, FL and also in Concord, California. He was a member of First Missionary Baptist Church of Auburndale.
Harold is survived by his wife, Anne, and two sisters, Carolyn (Jeff) Odom of Groveland, FL and Annie Jean Tanner of Christmas, FL, Step-son, Alan(Geri) Mauldin, Step-daughters, Pamela(Gary) Weidenbach, Deborah Bollinger, Cheryl Wenzel; fourteen Grandchildren twenty-seven Great Grandchildren; twenty nephews, nine nieces, and a host of great and great-great nephews and nieces. He was preceded in death by his first wife, Joy Nolen Williams, his father John W. Williams, mother Almira Louk Williams, a sister Dorothy Mitchell, a nephew, Mickey Odom, and a great-great-grand niece, Hannah Asby.